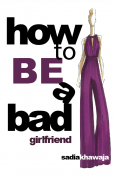 It's not intended to be a self-help book or how-to guide. Granted, if it were, it's not really a guidebook one would want to live by, based on the title alone.
Split up in volumes, it chronicles various situations from a past relationship from the perspective of the 'bad girlfriend.' Filled with sarcasm, honest emotions, and insightful reflections— all complimentary with some underlying humor.
Oh, there's also the South Asian/Muslim factor, which reveals cultural and religious constraints, taboos, and expectations to uphold. No big deal. It's like you're in the relationship too— without having to deal with the ramifications and consequences. All pleasure, no pain…kind of.
www.howtobeabadgirlfriend.com