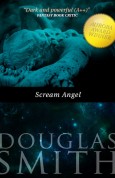 AURORA AWARD WINNER

Think of human emotion as a geography, with peaks of pleasure and valleys of pain. Imagine a drug that flips the valleys and makes them peaks, too. You react now to an event based not on the pleasure or pain that it brings, but solely on the intensity of the emotion created. Pain brings pleasure, grief gives joy, horror renders ecstasy.

Now give this drug to a soldier. Tell them to kill. Not in the historically acceptable murder of war, but in a systematic corporate strategy—of xenocide. They will kill. And they will revel in it.

Welcome to the world of Scream.

Jason Trelayne is a Screamer, a soldier forced to take part in the enslavement or death of entire races. But Trelayne falls in love with Philomela, a Scream Angel, an alien who produces the addictive drug. Does he love her for her beauty, for the drug she gives him, from guilt for what he has done to her people?

And does she love truly him as she swears? Or is he simply her only hope for freedom, for her and her entire race? Forced to choose between freedom and love, what will they do?
Note: includes an afterword by the author and excerpts from many of his other stories.